Dissection Workshop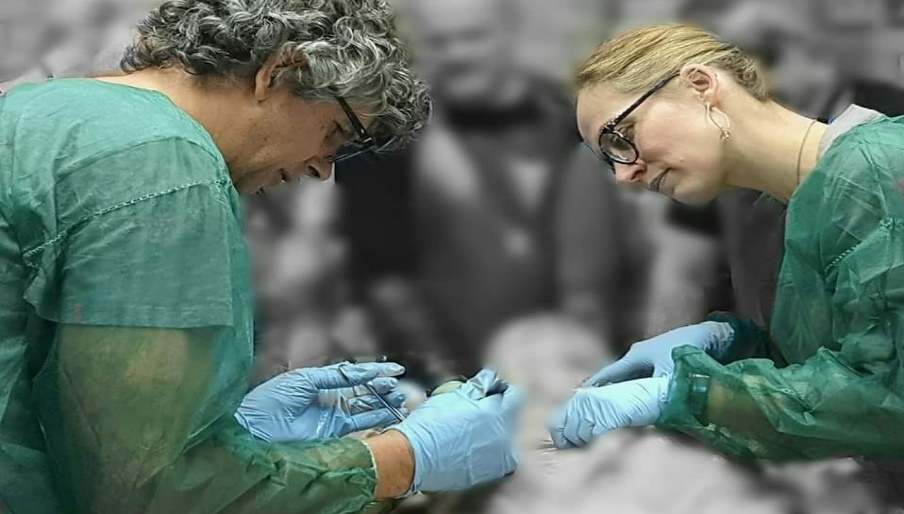 January 24 - 28, 2022
The Plastinarium in Guben, Germany
Dr. Carla Stecco, Dr. Gil Hedley, Dr. Robert Schleip
assisted by Laurice Nemetz, John Sharkey MSc (as special guests)
This 5-day workshop is conducted in support of the Fascia Plastination Project (a cooperative project of the www.fasciaresearchsociety.org, www.fasciaresearch.de, and www.plastinarium.com) to prepare the world's first 3D plastinated expression of the human fascial network.

Currently, all spots are filled; however, we will take names for a waiting list (inquire to info@fasciaresearchsociety.org). There are specific requirements that must be pre-approved prior to being provided with the registration link:
You must have a minimum of 25 hours of documented, "hands-on" dissection experience. You will need to provide the dates, location, and names of the instruction team.
You must be an active member of Fascia Research Society
Please email your qualifications to info@fasciaresearchsociety.org Applications sent to individuals, or other email addresses will not be accepted. In the event we receive more than 6 qualified applications, those with the most experience will be chosen.

Deadline for applications is November 30th 2021. On December 1st applicants will be chosen and sent the registration link. Please be prepared to pay for your registration no later than December 2nd 2021.
This workshop builds upon – but does not require previous participation at – two previous workshops already held at the Plastinarium in 2019. These resulted in the creation of ten plastinated fascial tissue specimens (which were exhibited at the 5th Fascia Research Congress, Berlin, November 2018, and can still be viewed with the free smartphone App 'otocast' -> Berlin/Germany -> 'Fascia in a NEW LIGHT').

Based on the inspiring experiences and achievements of these preparatory steps, this new workshop intends to support the further creation of a plastinated full-body demonstration of the human fascial network. Course participants can expect to be included in discussions and decisions relating to the anatomical, technical, and artistic challenges of this historic project, as well as to devoting some of the course time for preparatory practical work, such as supervised tissue dissection or specimen positioning. The exact nature and extent of that work will be up for the group's decision and will also depend on the state of the long-term work from the Plastinarium staff for Fascia Plastination Project at that time.

Other parts of the course will consist of educational prosection, in which the teachers demonstrate fascial connections on a formalin fixated body for the participants. Finally, specific anatomical lectures and hands-on palpatory instruction in a seminar room environment will help to bridge the connection between the dissection room and alive fascial tissue properties. Focus will be placed on anatomical relationships which contain a high relevance for fascia oriented manual or movement therapy.
Please be advised, not all dissection pieces will be chosen for plastination. The sole decision on appropriate pieces will be made by the Plastinarium after the workshop is over.

The teaching of the three main instructors, Dr. Carla Stecco, Dr. Gil Hedley, & Dr. Robert Schleip in the dissection room as well as in the seminar room will be enriched by the well-known anatomy experts Laurice Nemetz and John Sharkey MSc.
Start: January 24, 2022 at 11:30 am
End: January 28, 2022 at 3:30 pm
Location: Gubener Plastinate, Guben, Germany

https://www.plastinarium.com/pages/plastinarium.php/home

Notes: The presence of specific instructors and assistants may change based on possible travel restrictions and other unforeseen circumstances.

Refunds: Full refunds available until 30 days prior to the workshop. In the event of unforeseen circumstances related to the global pandemic, full refunds will be available if the workshop is canceled.
We appreciate if you plan your time such that you will arrive on time and can stay until the end.
Travel time from Berlin city center: via train approx. 2 hours; by car: 2 – 2 ½ hours.
Parts of this workshop will be captured by video/photo recording for a future documentation of this project. With your registration you agree to a potential public usage of these recordings. You are also welcome to take photo/video recordings yourself on selected parts of the workshop and to share them with the group (guidelines will be given at the workshop).
Limited Housing is available upon request nearby (usually between EUR 22- 30/day). You will receive related info after your registration.
Recommended literature: Carla Stecco: Functional Atlas of the Human Fascial System (If possible, have this atlas with you during the workshop, as it will be used as frequent resource).
Organization & Administration: Fascia Research Society
Course fee: $2355.00 USD + $145 processing fees = $2500.00 USD